Litigation Support
---
Expert Witness Services: Including Litigation Support Consultation and Expert Witness Testimony for Plaintiffs or Defendants
Litigation Support Services
Bill Nesbitt, who is a Board Certified Protection Professional (CPP) certified in security management, has been providing Litigation Support Services as a Security Expert Witness to law firms across the United States for more than 30 years. He has worked almost equally for both defense firms and plaintiff firms in more than 650 cases spanning 46 states. His grasp of current security case law makes him a valuable Security Expert Witness to any litigation team. Bill's clients have found it beneficial to have him involved early in the litigation process. His understanding of tactics and strategy will often be crucial in determining the ultimate outcome of any litigation case. His expert security advice during the discovery phase of the case can often be pivotal in determining the ultimate outcome.
As a Security Expert Witness, Bill is very familiar with premises liability cases where the theory of inadequate security has been asserted. He has testified in cases involving residential and commercial buildings, shopping centers and parking facilities, hotels and casinos, healthcare facilities, nightclubs and bars, as well as universities and public schools. In addition, he has also offered his Litigation Services in property crime cases such as cargo theft and other Supply Chain lawsuits. He has also testified in cases involving home burglaries. He has worked property crime cases such as port cargo and supply chain thefts, trucking terminal thefts, warehouse burglaries as well as warehouse burglaries.
Additionally, many of the premises liability lawsuits have involved personal injury such as sexual assaults in apartment complexes, hospital properties, hotels and parking structures. He has testified in cases involving entertainment venues such as arenas, convention centers and stadiums. He will also be a great asset to your case as a security expert witness for forensic cases where a breach of security is involved.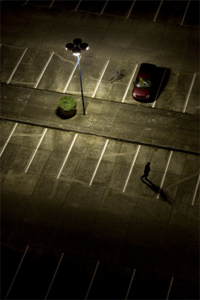 He is familiar with security guard operations, including contracts, training and post orders. He understands appropriate hiring and screening standards, training needs, and supervision requirements. Bill and his partners have expertise related to video surveillance systems and a range of electronic security systems, as well as CPTED and physical security methodologies, such as lighting, perimeter barriers, access management systems, security lighting and various alarm systems. The range of this litigation support and Security Expert Witness experience includes cases such as assaults, robbery, sexual assault, homicides and those dealing with forensic evidence. We have also worked a variety of property crime cases, including cargo theft.
As a Security and Litigation Expert Witness, Bill also has a great deal of expertise in the area of intentional torts. These areas include the claims of inappropriate use of force issues, including pepper spray and wrongful death cases. He has been a Litigation and Security Expert Witness in cases where assertions of false arrest, false imprisonment and invasion of privacy have been made. Many of these intentional tort cases have been in bars, casinos and retail businesses. Bill has been retained as a Litigation and Security Expert Witness for cases involving excessive force, including deadly force. He has testified in retail false arrest cases as well as pepper spray cases.
Finally, our litigation and security expert witness services, has dealt with several cases where claims of negligent hiring, negligent retention, negligent training and negligent supervision are at issue. Some cases have alleged civil rights violations as a result of the unequal application of security methodologies. The entire SMSI security expert witness and litigation support team is experienced in a wide range of security litigations. For case review or if your organization is seeking a speaker on the topic of Security Litigation, please contact Bill Nesbitt, CPP (bill@smsiinc.com).
Areas of Security Expertise and Experience by Industry:
Hospital Security, including behavioral health and off-site clinics
Hotel Security/Lodging Industry
Casino Security
Parking Facility Security (Surface Lots & Structures)
Apartment Complex Security, including HOAs
Retail Security
Shopping Center Security
Sports/Entertainment Venue Security
Cargo Security
School Security (University, Public School)
Amusement Park Security
Construction Site Security
Supply Chain/Warehouses
Areas of Security Expertise:
Security Guard Operations

Policies & Procedures
Security Training
Report Writing (Documentation)
Supervision
Retention
Pre-employment Screening
Weapons
Pepper Spray
Patrol Sequences
Staffing Levels

Physical Security Factors

Lighting
Alarms

Faulty Alarms
Alarm System Failures
System Supervision

Video Surveillance Systems

Video Memorialization
Video Monitoring Video Response

Access Management Systems & Visitor Control

Access Levels
Access Breeches

Locking Systems (Mechanical & Electronic)
Master Key Hierarchy
Barriers

Perimeter
Interior
Wayfinding

Landscaping

Line of Sight
Upkeep
Light Blockage

Security Design

Proactive
Holistic
Reactionary
Backup Systems

Maintenance (Housekeeping)

Grounds
Graffiti Eradication

CPTED Principals (Crime Prevention through Environmental Design)

Security Policies & Procedures
Security Reporting
Crime Environment
Reasonable Foreseeability
Intentional Torts

Excessive Use of Force
False Imprisonment
False Arrest
Invasion of Privacy
For more information, please contact us directly by calling (805) 499-3800 or e-mail at expert@smsiinc.com. Leave your name, firm name, address, phone number and FAX number so that we can respond to your questions. We would be happy to provide a CV and a Letter of Terms that would delineate fees. We are also willing to furnish references.