THE CHALLENGE OF SECURING PUBLIC ACCESS FACILITIES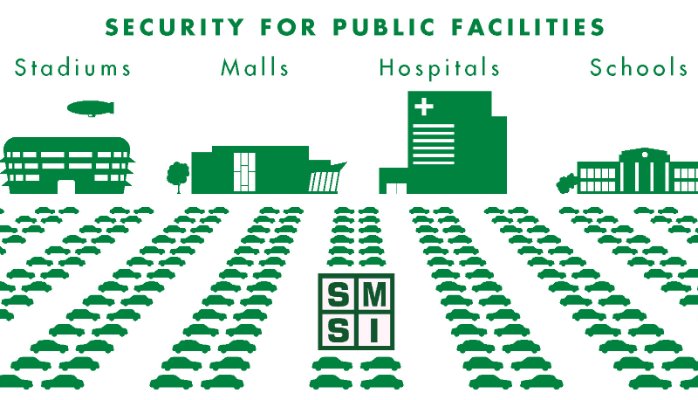 As posted on LinkedIn Pulse 11/27/15
Every enterprise, whether public or private, whether governmental, commercial, healthcare or manufacturing, must deal with a unique universe of security challenges. For those industries that are not opened to the general public, perimeters are often hardened and access is tightly controlled to those who are authorized to enter. Those enterprises that cater to the general public have a completely different set of security challenges, both internal and external.
Public facilities, include, but are not limited to, Shopping Malls, Schools (including institutions of higher learning), Healthcare facilities, Stadiums and Entertainment venues as well as High-rise Buildings. To use a football analogy, these public facilities must have a "Bend, but don't break defense." There must be reasonable security programs to deal with public interior and exterior space, such as parking facilities, as well as for the common areas of interior space, such as for malls. Clearly, there are spaces within public facilities that require strict access control. There is always a mixture of private, semi-private and public space, such as common walkway, restrooms and private offices.
Each of the broad-based venue categories mentioned here have had violence visited upon patrons therein. We have seen active shooter incidents in all of these categories. We have seen acts of domestic violence migrate into the workplace. The threat of terrorism always looms in the public consciousness, and threat levels are dynamically influenced by world events. Criminals have victimized the innocent patrons within the parking facilities (exterior & structures, for each of the categories mentioned herein, including both property crimes and crimes against individuals.
The courts have generally held that a property owner has an obligation to provide reasonable security for the visiting public. Remember security is a situational discipline, meaning one size does not fit all. The goals of most security programs is to reasonably mitgate criminal behavior commensurate with the ambient threat environment.
When it comes to security, you can't know where you are going until you determine where you have been. This is why periodic security assessments are suggested, for at least two reasons: (1.) The threat environment may have changed or been modified over time, (2.) With the rapid advancement of security technology, new and cost-effective remedies may be available that were not available as recently as 3 years ago. Because of the rapidity of change in the threat environment, accompanied by rapid advancement in security technology and methodologies, we believe a comprehensive security assessment should be taken every three years, allowing for course corrections as needed.
Public facilities should not only be adequately secured, they should be perceived as being secure by the public. Often times, as a practical matter, the perception of security has a greater impact on the bottom-line that the reality of the security program. The public is more likely to patronize a mall they perceive as being safe. Given the choice, parents are more likely to send their kids to schools they perceive as being safe, such as religious schools and charter schools. In the past, we have used the tern "The Psychology of Security Programs."
Effective security programs require a layered approach. The number of layers are determined by the level of threat and the value of target being protected. High value targets, whether people or assets demand more security redundancy. The graphic above shown here shows that a high value target #1 requires more redundancy than the value target #6 target. The diagram also illustrates six layers of protection are not needed for the entire campus. The issue of redundancy is a function of the level of threat and the asset being protected.
From a security perspective, almost all of the public access facilities discussed herein have the special challenge of securing parking facilities, both surface lots and parking structures. In fact, a substantial percentage of premises liability lawsuits, claiming inadequate security, originate in parking facilities. The claims often assert inadequate lighting, inadequate security presence inadequate surveillance. Over the years there have been a number of CPTED publications dealing specifically with the issue of effective security for parking facilities.
Security programs must be cohesive and synergistic. The best way to achieve synergy and to maximize return on investment, is to apply the strategies of CPTED (Crime Prevention Through Environmental Design) to both exteriors and interior space. The effectiveness of any security program will be significantly and positively impacted by the synergy of CPTED design. There have been selective studies relative to the application of CPTED design. Some studies have reported that mall crimes were reduced by as much as 24%. CPTED is in play with the largest mall in the United States, as well as the largest mall in Canada
As mentioned previously, public access facilities are expected to provide sufficient security that meet a reasonable standard of care. Among public accessable facilities, hospitals are usually held to one of the highest standards of care. Common to all the categories discussed here, there are a significant number of security driven lawsuits that pertain to crime victimization occurring in parking lots and parking structures. These cases often deal with lighting, access management, surveillance and security patrols, and of course, CPTED. For better or for worse CPTED frequently defines the totality of the circumstances. Before determining adequacy, public access facilities need to quantify the threat environment using source such as the CAP Index. Relative to place and time, the threat of terrorism must also by part of the calculus.
How can public access facilities be made relatively safer? You must see where you have been, before you can see where you are going. The first step toward making hospitals, malls, schools and entertainment venues safe is to conduct an objective security assessment. Because security is a situational discipline, no two security plans look the safe. There can be universality of goals, but the means by which to achieve those goals must be situational determined. The security assessment provides the predicate for all that follows.
Some factors that determine the situational nature of security programs are:
Geography
The parameters of the crime-threat environment
The quality of local law enforcement availability and support
The socio-economic environment
Architectural design
Customer Sociology
The litigation environment
History
For these reasons, and others, the best first step is to conduct a comprehensive security assessment. The security assessment process will also identify the most cost effective remedies, in part by applying synergistic solutions, as opposed to arbitrary and randomly chosen remedies that lack integrated sensory. The good news is that security technology, over the past few years, has become more effective, while at the same time, much more cost effective. As an illustration, just look at video surveillance technology.
With the judicious application of security technology and an overarching application of CPTED design, the cost associated with the use and number of security personnel (FTEs) has been reduced. (Generally the most costly remedy is the use of uniformed security officers, in part because it is a reoccurring expenditure.) At the same, because of technology, fewer security officers are able to get the job done effectively. Just look at the application of LED lighting. (Yes the upfront costs are initially higher, but the net ROI is lower because of energy cost reduction and the longevity of the luminary.)
In addition to the categories discussed here, public and semi-public facilities may include: Condominium & Apartments complexes, Industrial Parks, Medical Office Parks, Amusement Parks, Houses of Worship and Public Parks.When it comes to security programs: One size does not fit all. Remember: Security is a Situational Discipline.
William H. Nesbitt CPP, President of Security Management Services International, Inc. (www.smsiinc.com)