CRIME PREVENTION THROUGH ENVIRONMENTAL DESIGN FOR SHOPPING MALLS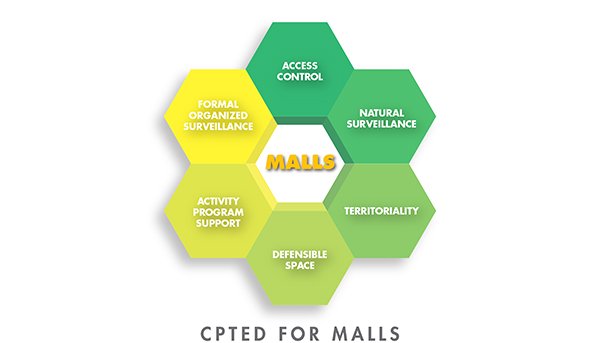 As posted on LinkedIn Pulse 11/17/15
CPTED is a particularly useful security stratagem when applied environments that serve the general public. Public entities such as office buildings, hospitals, schools and universities, apartment, entertainment venues, HOA complexes, and certainly malls. In addition to threats posed by street gangs, burglaries and robberies, malls also must deal with threats as well as flash mobs, the threat of terrorism and active shooter incidents.
It is likely that CPTED will have more holistic positive impact on mall security compared to any other strategy if properly applied. CPTED also provides a multiplier effect on any existing security programs. This particularly important given the international threats of today's world. Conversely, the absence of CPTED, will more likely than not, have a deleterious and diminished impact on mall security programs.
The topic of mall security is particularly relevant at this place in time. Over the last several years we have seen active shooter incidents, both here at home and abroad. When active shooter events occur, they immediately dominate the international news cycle. Malls are having to deal with the threat of "flash mobs", most recently the potential for acts of terrorism, coupled with the onset of holiday shopping, and the resultant crowds.
For those who are not familiar with the basics of CPTED we suggest that you visit Wikipedia for a more through explanation:
https://en.wikipedia.org/wiki/Crime_prevention_through_environmental_design
 CPTED has the capacity to synergize almost any security program, which in turn results in improved cost-efficiency and an enhancement to ROI. There is no question that CPTED is a cost/benefit enhancer for any security program. CPTED, when properly applied, will likely reduce the probability of premises liability claims of inadequate security. The most logical first step in the application of CPTED principals, is an objective security assessment.
Before we return to the topic at hand, CPTED, let's take a look at the unique security challenges of shopping malls. Hardly a month passes that there is not a story related to the violence at shopping malls. The biggest headline grabber are stories related to Active Shooter events. Of all the primary active shooter targets, prediction is probably the most difficult malls (as compared to hospitals and schools). Additionally, parking facilities have been the scene of vicious attacks, especially attacks on women. It suffices to say that good security is good for business.
For those who are not conversant with CPTED, consider the following the analogy of two malls, A & B.
Mall: Mall A is characterized by trash blowing about the parking, poor lighting and the over growth of plant, grass and shrubbery. The tree canopy engulfs the light standards in the parking lot, and a few these lights are burned out. There are some signs of tagging (graffiti) on exterior surfaces and on the walls of some restrooms. In the corner of the parking structure a security officer is taking a snooze in his car. This mall is located in a moderate crime environment. Right across the street from Mall A, we have Mall B. Mall B is characterized excellent housekeeping and timely maintenance. The parking facilities are clean and trash free. The exteriors are well milt with LED lighting and trees are trimmed back and well-spaced so as to not obstruct light coverage. There is an absence of squatters on the property. Security personnel make their presence known and there is an active graffiti mitigation program. Mall B also hosts a police substation.Of the two mall examples, which mall (A or B) is most likely to have a crime problem? Granted, the examples given here are over simplified, but the principals raised are valid. The graphic at the top of the page demonstrate the synergists of applying CPTED principals as a valid backbone of any security program. As we have stated in the past, when it comes to security programs, one size does not fit all, because security is a situational discipline. Security is a situational discipline, in part, because the ambient threat environment differs from one locale to another. Cookie cutter security program have the potential to actually increase premises liability, in part because they may signal ineptness.
If adjustments and/or further remedial measure are required, the first step in that process should be a thorough security assessment, in part to ensure the remedial strategies are site-specific.
The application of CPTED techniques are, generally speaking, very cost efficient, in part because CPTED helps to unify the effectiveness of   number of disparate security strategies. The intended goal is to try to ensure that the "whole is always greater than the sum of the parts.
The SMSI Security Solution Hierarchy depicted here provides a sequential model for building an effective security program. By using CPTED as the foundation for all that follows, there is an assurance that each additional layer will create a security program where the whole, is in fact, greater than the sum of the parts. This model is far more efficient than security programs that are the product of "crisis management."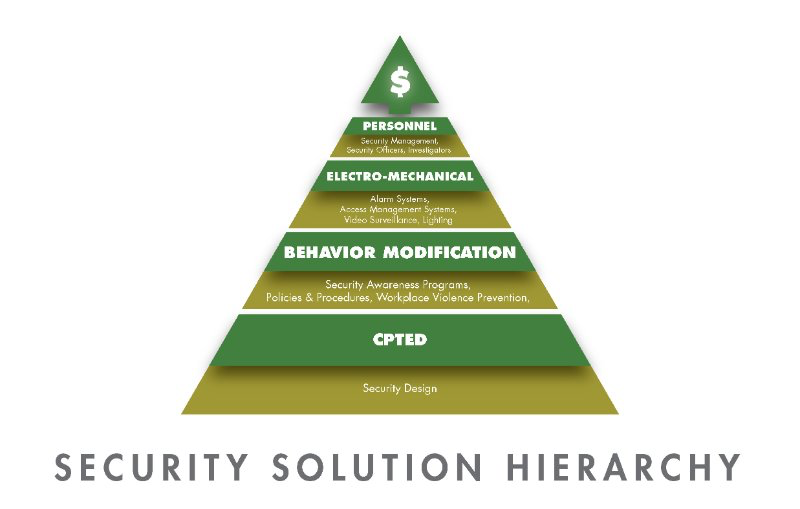 Shopping Malls offer a unique challenges, from a security perspective. Whether a mall, such as the neighborhood strip, with each business affording direct access from the outside via exterior doors on the front and receiving dock at the rear or an enclosed malls with enclosed common areas, the security challenges differ. There are several levels of required security within any mall, large or small. The next graphic some of those variances.
With neighborhood shopping centers, with some variance there is public space (shopping space) and private space (shipping & receiving and storage space).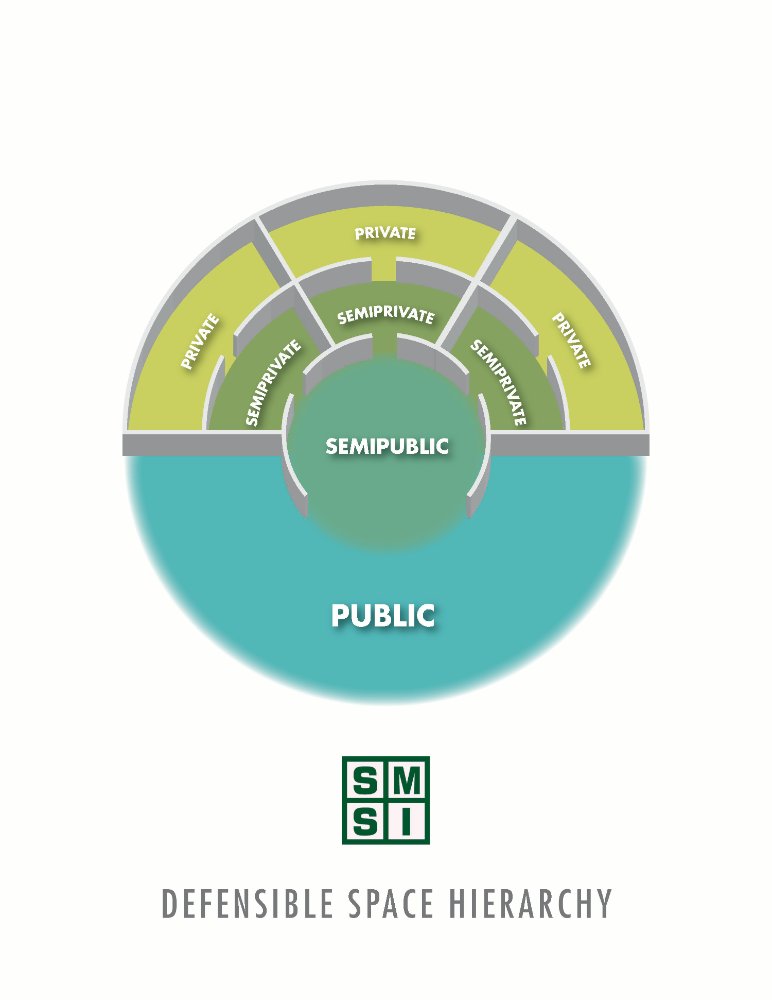 The Defensible Space Hierarchy depicted here depicts a greater range of defensible space ranging from private (store rooms, administrative offices), semi-private space (service corridors) and public space (parking facilities and common areas). Within the scope of the security plan, it is not unusual to find that the security for service corridors to be insufficient.  CPTED is particularly helpful as an enhancement to mall security programs that need to reasonably secure public space, semi-private space and private space.
At this point, it is important to remember, that the preconditions for criminal behavior are motive, means and opportunity. Effective security programs must also be perceived as being effective. Therefore whether the goal is to reasonably public, semi-private or private space, the security program must be perceived as effective as well as being effective from a physical security perspective. This is goal is why the application of CPTED methodologies is so important. CPTED is also a very cost efficient way to achieve real synergy and unity of purpose.
The Defensible Space Hierarchy illustrates the need for mall security programs to be multi-dimensional, acknowledging the differences of the security needs as one tries to reasonably protect both people and assets along the continuum from public to private space by taking full advantage of CPTED strategies.
The thesis of the proposition put forward herein, is that CPTED, when properly applied, is a powerful security tool in of itself, as we as an effective synergistic strategy. A well designed security program, as outlined in the Security Solution Hierarchy, will be marginalized if that program is perceived as being weak. When it comes to effective security programs, both reality and perception are important. CPTED design takes perception to a new level.
William H. Nesbitt, CPP                                     Contact Information:
President                                                             Phone: 805-499-3800
SMSI Inc.                                                            Email: bill@smsiinc.com
 Website: www.smsiinc.com 
Member: ICSC, ASIS International, International CPTED Association 
Purveyor of: Security Source Online on LinkedIn: https://www.linkedin.com/grp/home?gid=2068227